Сращивания ленты несущей джуки ОУР. 8-56 мм. Желтый, Синий, Зеленый, Черный.
Zevatech smt machine parts
juki surface mount equipment parts
Juki CFR feeder 8mm
juki smt pick up nozzle
Juki CFR feeder parts



Один ОУР сращивания ленты с сильным прилипателем и без dimles sprokect.

Специальные ОУР для juki 2050 2060 2070 машины
SMT Splice Tape
For all kinds of carrier tape splicing,operating easily,costing effective.
SMT Double Splice Tape(Sereis 01)
Two lines of dimples desing that allows for easy operation and saving labor.
Wide backing desing and easy removal.
Excellent adhesive tape ensures perfect splicing results and makes full use of leftover
| P/N | Category | Qty/Unit |
| --- | --- | --- |
| 1908 | Black Double Splice Tape 8mm | 500 Pcs |
| 1912 | Black Double Splice Tape 12mm | 500 Pcs |
| 1924 | Black Double Splice Tape 16mm | 500 Pcs |
| 1932 | Black Double Splice Tape 24mm | 250 Pcs |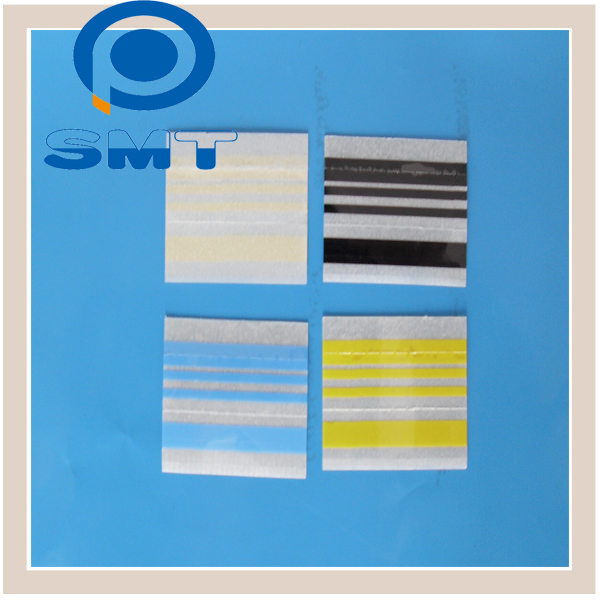 Related Products:
1. Fuji Grease Gun
2. Panasonic Grease Gun
3. THK MG70 Grease Gun Unit
4. NSK HGP Grease Gun Unit
5. Yamaha Grease Gun Unit
6. 400G Grease Gun
7. THK, NSK, Panasonic, Yamaha, Kluber Grease, high temperature grease/ oil, etc.
8.SMT Carrier tape producer,High Viscosity AI Splicing Tape,SMD yellow splice tape
Our advantage
A. Various brands available
B. Offer customized service
C. Large stock- more thank 5000 kinds of parts, fast shipping
Packaging & Shipping
Shipping
We ship to Worldwide.
Items are shipped via Fedex, DHL, or UPS, for some country which is not available, will choose EMS TNT or other ways.
Группа Продуктов : СМТ/АИ сращивания ленты